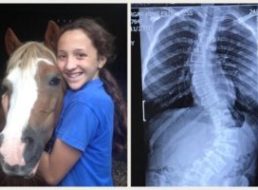 Posted on January 30, 2018 by vertebralbodytethering_fnktip in VBT Fundraising

Hi my name is Erin and I'm 14 years old, thank you for taking the time to read my story. I am an extremely active girl, enjoying horse riding, gymnastics and athletics and one day dreamt of being an Olympic athlete at least I did until this happened. This is my Scoliosis Journey

No Comments. Continue Reading...